By Olayinka Oyegbile and Emmanuel Onoja
Renowned Professor of History, Toyin Falola, has said the recently concluded conference on Impact of Private Universities on Public Universities in Africa, was organized to examine higher education on the continent.
The two-day conference which was held at Babcock University, Ilishan-Remo, Ogun State, was organised by Carnegie Foundation, New York in conjunction with the University of Texas at Austin.
Falola, who is the Jacob and Frances Sanger Mossiker Chair in the Humanities, at the University of Texas at Austin, said the regional conference with the theme: 'The Impact of Private Universities on Public Universities in Africa' held from January 6-7, 2021, was to help shape administration of education on the continent.
Speaking at the kickoff of the conference, Falola said, "We are studying five countries: Ghana, Nigeria, Uganda, Kenya and South Africa. This is not the only meeting we are convening. By July, I am taking over 60 people to Nairobi to look at this issue from East and Southern African dimension. We are comparing at various levels of countries."
This, according to him, would involve studying and comparing African institutions with those of  Asia. The professor observed that " I am always looking for the best for my people, country and continent. That gives me energy; that makes me restless. What are you if your people are not developed? What are you using your knowledge for? This drive has been relentless. Oil is going to dry out. The Stone Age ended not because there are no more stones; the stones are still there. But new ideas, new knowledge overtook it. We have to be thinking about a knowledge economy. We can use this knowledge economy to drive the overall economy.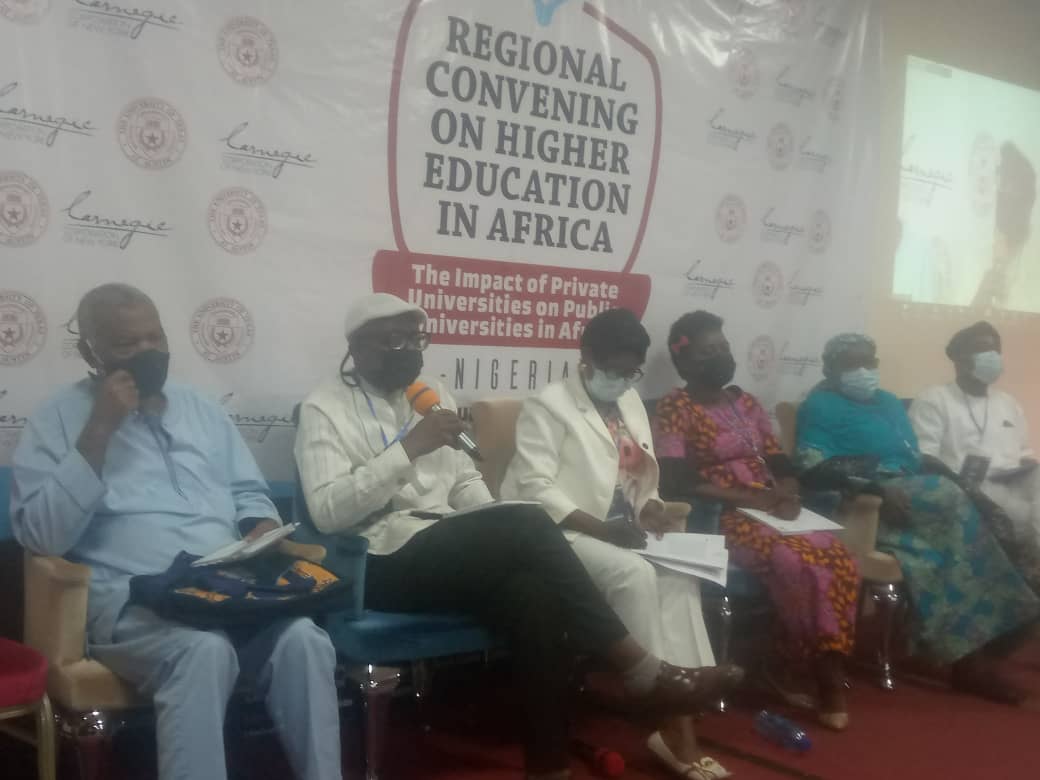 "We have many private universities; we want to assess their performance in the long run but at the same time understand the impact they are making in public universities. For instance, is Babcock affecting the University of Lagos and University of Ibadan in terms of student recruitment, performance, efficiency of administration, personnel, student-teacher relationship? This is the first time we are bringing people together from five countries to examine the impacts and the relationships."
He added that the main goal of the conference was to influence policymaking in education in Africa, adding that at the end of the conference all the policies formulated would be sent as recommendations to regulators, ECOWAS, as well as funders of universities, and to the African Union.
Falola canvassed for inclusion of private universities to get measured funding from the government because, "Some people are saying if they are private why should government give them money? My argument is that those who go to those private universities are citizens. They are Ugandans; they are Nigerians. Why are they being excluded? We now have a situation in which if a parent sends his child to private elementary, private secondary and private university, what has the public contributed to the education of that citizen who is going to be part of human capacity, productive capacity and contributing to national development?"
He asked participants to come out with well-articulated points to help solve problems of funding and administration at both public and private universities on the continent.
The Vice Chancellor of the University of Lagos, Professor Oluwatoyin Ogundipe, who gave the keynote address said, "Public universities in many regions of Africa have witnessed tremendous growth. However, concerns exist for the following: funding, relevance of curriculum to the needs of the country; the quality of programme  in relation to societal and industrial needs; capacity for sustainable research; declining condition of service; inadequate infrastructural facilities; enrolment beyond carrying capacity, and alternative routes to provide higher education is establishment of private universities."
According to him, before independence, Nigeria had only one university in Ibadan. This was later followed by regional universities because of the demand for university education across the country. This was increased, and that today there are about 203 universities in the country.
Prof Ogundipe said the increased demand for university education in Africa has grown and to meet the  demand private universities were licensed by governments. According to him, there are  over 2.1 million students in all the universities in the country with only five per cent of this in private universities.
The vice chancellor added,  "There is also the issue of ineffective policy support which is a very big problem in this part of the world. Generally, no formal relationship exists between private and public universities. Many universities in Nigeria prefer to have partnerships with foreign universities. Some lecturers from public universities unofficially work for hours in private institutions. There is the need to develop a new and healthy competitive relationship for improvement of standards. The standards need to be improved in the private universities and some of the public universities."
He decried incessant strikes in public universities, limited admission quota as well as poor funding. He said government always fail to provide enough funding to fund good facilities for the public universities. Prof Ogundipe appealed to government save public universities across the continent from decay.
We use strike as our last resort-ex ASUU chair
However, against the backdrop of the incessant industrial strike action embarked upon by members of Academic Staff Union of Universities (ASUU), the immediate past national chairman of the union, Professor Biodun Ogunyemi, has said that the union only go on strike when other means of getting the attention of the government fails.
Speaking at the conference on higher education at Babcock University, he said  ASUU has different strategies for getting the government to live up to its responsibility in implementing agreements reached but when other options fail, the union is left with no choice than to embark on strike since that is the language the government seems to understand.
Similarly, the chairman of the union at University of Lagos, Professor Dele Ashiru, noted that the union does not coerce anyone to join it, saying, "All teaching staff have the right to decide whether to join the union or refuse. However, we can only fight for the rights and welfare of our members."
Comments
comments