By Toyin Falola
I was at the University of Ilorin when the announcement was made that the Tinubu-led federal government would pay four of the eight months' salaries when ASUU went on strike. I must confess that many people were happy, saying that they were heavily indebted and owed their Cooperative Societies loans and, at least, they can now pay. Less than 24 hours later, messages came from several places that I should tell the executive of ASUU not to reject the proposal. I was too swamped to follow the news. By the time I did, I was sad to read the words and so displeased with the instruction that ASUU must sign a pledge not to go on strike again. The government is treating its most intelligent segment like disposable workers. While I ran the errand, I was disturbed by the overall treatment of teachers at all levels of our educational system. We have reached a crisis stage.
Teaching in Nigeria has become an adventure similar to going on a treasure hunt armed with a spoon instead of a shovel. It's funny until you realize the treasure you seek is a living wage. Penury among teachers and lecturers in Nigeria is a tale of dedication and desperation, where the protagonists are educators trying to make ends meet, and the antagonists are low salaries, bureaucratic inefficiencies, delayed payments, inconsistent policies, corruption, inflation, and misplaced priorities.
Think of a lecturer whose day begins with the enthusiasm to mould young minds, but as they step into the lecture hall, they are confronted with an overcrowded room, an outdated curriculum, and even the absence of chalk. Regardless, they continue to teach amidst serious heat. The following week, they decided to give a test but were told that even if the faculty printer was working, there were no papers to print question papers. The sheer absurdity of having to fend for basic teaching materials personally already leaves the lecturer with low morale and unwillingness to teach—no thanks to inadequate funding of secondary and tertiary education by the Nigerian government.
Shortage of funds in the face of rising demand in Nigeria's educational development affects job performance in the long run. Although UNESCO recommends a budgetary allocation of 15% to 26% for education, which other nations have been devoted to, that of Nigeria has always fallen below 8%. Someone once said that education in Nigeria is on oxygen, merely gasping for breath.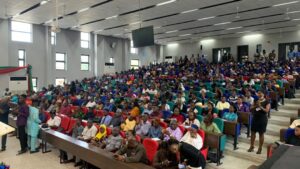 Even though it is clear that the education sector has a huge impact on a country's economy and overall outlook, the Nigerian government does not seem to get the point. There are misplaced priorities and inconsistent policies all over. While the Nigerian government would rather borrow millions of dollars to purchase brand-new SUVs for politicians who have already looted enough public funds for their sixth unborn generation, most of their reform efforts in the education sector seem more like experiments than well-thought-out plans. Teachers are left to grapple with the consequences of these abysmal policies.
Should we talk about how Nigerian teachers, both in secondary and tertiary institutions, are some of the most underpaid professionals in the country? The life of a Nigerian teacher is like a full comedy show where the only laughs you get are from your paycheck. It's not just the low salaries; it's how the government withholds them for long periods. Many private school teachers even get more ridiculous salaries. The enthusiastic among them are left to console themselves with the saying, "The reward of teachers is in Heaven." This statement has become a joke taken too far because, at this point, the teachers would better appreciate their reward to be here on earth. Who even put the reward in heaven? Why is the reward of bankers, tech-bros, or CEOs here on earth more than teachers in heaven? That reward must be brought down on earth.
Withholding the already low salaries of educators leads to poor access to healthcare and increases the poverty rate in the country. Their well-being and that of their dependents is also put at stake. Research shows that the prevalence of death among Nigerian lecturers has drastically increased in the past twelve months. Depression and other psychosomatic disorders among lecturers have also increased due to feelings of abandonment, oppression, and detachment. In the long run, poor compensation packages and low salaries have sent experienced and talented lecturers packing in the search for greener pastures where educators are better appreciated.
The japa syndrome in Nigeria, which does not leave teachers and lecturers out, is like an emerging pandemic. The Nigeria Social Cohesion Survey recently released a survey revealing that 7 out of 10 Nigerians are ready to relocate to other countries, with a significant number achieving success. Tribuneonline also once reported that Ethiopia has recruited 200 professors from Nigeria while South Africa, Egypt, Ghana, and others have a substantial number of Nigerian professors. When you compare Nigeria with European countries, the difference between remuneration in the education sector is like the difference between light and darkness. They are highly priced and valued once they step out of Nigeria. This massive brain drain will ultimately deteriorate the country's education quality.
Many secondary and tertiary institutions in Nigeria are bereft of adequate infrastructural facilities. The classrooms, laboratories, hostel accommodation and offices are nothing to write home about. As stated by the National University Commission, only around 30% of the Nigerian student population have adequate access to lecture theatres, classroom, libraries, and laboratories. While the staff-to-student ratio in schools like Massachusetts Institute of Technology is 1:9, the reverse is true in Nigeria.
This undeniably discourages teachers, and when they are forced to demand better working conditions through industrial actions from organized bodies like the Academic Staff Union of Universities (ASUU), the government rarely resolves their grievances, putting students in a precarious situation. Nigerian schools would break world records if there were any sports about the frequency of strike actions. The ASUU president once said, "At no time in the history of Nigeria has a government tended to have the destruction of university education as a policy as we have witnessed recently when the government triggered our Union into strikes." It is that pathetic.
Interestingly, corruption has eaten deep into the fabric of secondary and tertiary institutions, putting more educators in penury. ICPC recently did a system check, and they remarked that "the fraud in the universities is amazing; you will be shocked." Isn't it paradoxical that an institution with some of the most underpaid professionals also has some of the most corrupt administrators? ICPC stated that the worst two organizations are teaching hospitals and universities. Funds for infrastructural development and staff salary increments are looted or diverted into private accounts.
The effect of poverty on teachers and lecturers is far-reaching. Apart from low motivation, job dissatisfaction, brain drain, disruption of academic activities and reduction in the quality of education, students are the most affected by the financial challenges of educators. The lower quality of education they receive may hinder their academic and career prospects. Disruptions caused by strikes also lead to extended study periods and delayed entry into the job market. There are also economic and social consequences as educators struggle to provide for their families.
But here's the twist: Nigerian teachers have turned their financial challenges into opportunities for creativity. They embrace the entrepreneurial spirit and start side hustles like tutoring after school and other unethical activities like operating 'miracle centres' and assisting students in engaging in examination malpractice or even selling guguru popcorn in schools. The decadence in the education sector discourages other gifted and capable educators from entering the industry. But for how long can this continue?
The government needs to rethink and increase the educational sector's budgetary allocation. Infrastructural facilities in secondary and tertiary institutions must be improved, and more academic staff must be employed. Every available material and human resource should be channelled to fight corruption in the sector.
Lastly, the government should appoint competent administrators in the education sector rather than appointments based on nepotism and political games. Instead of underpaying the individuals who light the path to our future, it's high time we rewrote the script and give educators the standing ovation they deserve.