By Adetoye Afon
I've heard many Nigerian commentators, including media personalities and political analysts complaining about the unwillingness of President Bola Ahmed Tinubu to allow access to his academic records at Chicago State University (CSU). The common refrain within the thread is this, "If President Tinubu truly has nothing to hide, he should allow unfettered access to his academic records, after all, only the guilty are afraid."
"Only the guilty are afraid" is a cliche used by ordinary people around the world to the point that is almost a truism because it sounded logical and straightforward. But it can also be a convenient potent weapon on the tongue of an enemy "the guilty are always afraid, of being found out; so they are constantly looking backwards over their shoulders, and doing things to cover up their past misdeeds". A corollary to this mindset is that, once the guilty shows signs of fear, we have all the evidence we need, and are required to nail the guilty ones to the cross straightaway!
But before we proceed to condemn the guilty as charged, will it not be fair and just to at least listen to the argument of the guilty one? I mean sort of play the "Devil's Advocate" for once? We can generally do this in many convenient, simple, non-complicated ways: let us proceed from "known" to the "unknown" so that we can together form some educated opinions about the matter.
The known
Anyone familiar with the academia knows for a fact that, no university anywhere in the world is permitted to release the academic records or transcripts of its graduate students without a prior written consent of the affected student. Not even the parents that paid all the school or tuition fees has the authority to demand for academic record of their children. Further to this, a graduate student is also not allowed to have access to his/her own academic records; whereas a student may authorize his alma mater to release his/her academic transcript to another academic institution, this does not automatically grant him access to view the document.
However, a student may obtain his own academic records only in extraordinary circumstances as may be prescribed by each institution. In exceptional circumstances (such as the one being sought by (Atiku Abubakar) in the United States, the court may order the release of a graduate's academic record in the interest of the public good.
And the unknown
So in the case of Bola Ahmed Tinubu vs Atiku Abubakar, what good will it do the American public to compel a US university to release a foreign students' academic record to the general US public? Atiku may argue, and rightly so, that the information is of interest to the Nigerian public only, and that it is also central to the determination of his own political case and appeal at the Supreme Court. So, if in the opinion of the Chicago State High Court, Illinois, Atiku's argument is considered meritorious, and it compels CSU to release Tinubu's academic records, the question may be asked, would that not amount to political interference on the part of the US? Furthermore, could such evidence be admissible in a Nigerian court jurisdiction under the Nigerian law? Well, these are unknown legal matters to be considered within Nigerian and the US legal systems, we can easily admit that we lack knowledge until the various courts decide on these matters. We may raise question that we are not competent to answer, but as a lay man, here is my humble submission and opinion.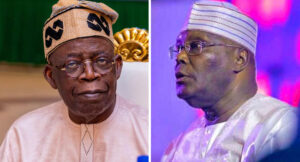 Tinubu, Atiku
To the extent the Nigerian Constitution does not place the burden of disclosure of his academic record, Tinubu is within his right to prevent or block anyone from accessing his academic record. Since the constitution did not stipulate or mandate academic record as an eligibility criterion for election, the argument that "it is for public good" is illogical, does not hold water, so it won't fly.
If Atiku already knows something the rest of us do not know, he is duty bound to disclose such to Nigerians, otherwise it may be necessary to ask the question, "what else is Atiku looking for? This question is important and necessary because the Chicago State University (CSU) affirmed in clear written terms that the president graduated from their institution, they have also released his academic records, a fact Atiku himself attested to in the court papers.
Therefore, I think Atiku owe Nigerians some explanations over his unusual request; if he knows about some hidden sinister details in Tinubu's academic record, he should make such a public document, then the reliefs he is seeking in a US court would become a matter of public interest in Nigeria. Unless and until that is done, it is reasonable to suspect that Atiku Abubakar was merely phishing; he was not looking for anything in particular, only hoping that something damning incriminating could turn up in Tinubu's academic records that he can use to fight his own appeal at the Supreme Court, and in furtherance of his long-standing personal quest to govern the country.
It is therefore not okay for some Nigerians to say "If Tinubu has nothing to hide, he should release his academic record" it is also fair, and necessary to ask Atiku Abubakar to disclose to Nigerians what exactly he is looking for in Tinubu's academic record. It is self-serving politics to suggest without evidence that Tinubu`s reluctance to release his academic records is indicative of existence of a "dark secret" which may be used to blackmail his office to do the bidding of a cabal or a foreign entity hence the need for the president to come clean about his educational records.
On this, the question to ask is this, if something truly "dark and sinister" existed in Tinubu`s academic past, rather than embarking on phishing and speculative expedition around the world, would it not have been patriotic for those who felt that the president could be blackmailed to spill it out to the truth they know to the public? If there is a possibility of Tinubu being blackmailed, why do people think the weakest link in his past lurks in his academic records, do they know something we all do not know, and if they do, what are they still looking for in Chicago?
For those who choose to see the reasonable objection of President Bola Tinubu to the release of his academic transcript to Atiku Abubakar as a "clear evidence that the president has something to hide and therefore see him guilty as charged", let me offer this basic African truth as basis for an argument: In Africa, if you went to the bush to obey the call of nature, it is not necessarily a bad thing to do, ordinarily there should be nothing to worry about really. However, if you heard that a known sworn enemy of yours is snooping around, asking people for the time, location, exact spot where you deposited your body waste, and the colour of the leaf you used in tidying up yourself, as an African, and any other normal person, one would become suspicious and combative, although you had nothing to hide about obeying the call of nature, the appearance of a sworn enemy on the scene has suddenly changed the dynamics of your survival, you should be careful!
Fear and suspicion are normal human survival strategy; when people sought to carefully cover their tracks, it is not only because they are afraid, but also not an admission of guilt, rather it is an acute awareness of the dangers posed by an enemy lurking in dark corners seeking for opportunities to strike. It is the same in politics, when your political opponent goes to every corner of the world in desperation, looking to unearth unimportant bits of information about your past, you have every reason to be suspicious, it is also reasonable and necessary that you take adequate steps to prevent such political enemy from having access to your past.
President Bola Ahmed Tinubu has acted within the bounds of the law. He also acted within the threshold of "common-sense politics" by refusing to permit Chicago State University to release his academic records or transcripts to a political foe without his written consent. All politics is local, if all Nigerian politicians, including Atiku Abubakar himself were in Tinubu's shoes right now, nearly all of them will act the same way
*Afon writes from Arlington, Texas, USA