By Olayinka Oyegbile
Planning is bringing the future into the present so that you can do something about it now ― Alan Lakein
There is nothing like good planning. But how does good planning start? It starts by planning early because if you do, there are guarantees that if anything would go wrong you will be able to quickly know and be able to correct or restrategise. That is why most good plans don't fail. The popular saying is that "He who fails to plan, plans to fail"!
Our country is full of so many projects that have failed because of inadequate and thorough planning. We need to learn a lot from ourselves and others on what it means to plan and succeed in what we do. Our country used to have what was then called a Five-Year National Plan or something like that. However, over the years of long military rule this has been jettisoned, the two decades of return to civil rule has not seen those ones thinking of how to return this back on stream. The result is that we lack any national plan of what to do or how to go about things. We stumble and fumble into things thus having no head way in all we do.
However, the art world both at home and abroad seem to be showing the way things are done despite the lack of support and encouragement from all governments from the local to the federal. The Lagos Book and Art Festival (LABAF) is an example. The 2020 festival came to an end in November. The next one would not be happening until November 2021 yet the orgnisers have already chosen the theme, books and even most of the speakers and personalities that would headline the event! Thanks to the duo of Toyin Akinosho and Jahman Anikulapo. I suggest that our government bureaucracies need to learn one or two things from these gentlemen. They are showing these bureaucrats that the art sector can point them in the right direction and teach them how to organize the culture calendar and make things work. Since the LABAF kicked off years ago, I cannot recollect any year it didn't hold owing to the tardiness of the organisers or due to lack of initiatives. So why should things not work for us here?
Next is the fact that the Booker Prize organisers late last year announced the name of the judges for this year's competition! That is long before the call for submission of entries started. It shows the level of organization and planning that goes into this venture. They don't have to wait for the date to be too close before announcing the names of their judges since they know it is what they have to do. On December 15, the organisers named the judges for the 2021 prize. On the list is our own Chigozie Obioma who has had the honour of being nominated twice for his two novels! This is good for him and it shows the promise of his craft and the direction it is going. The panel is to be chaired by a historian, Maya Jasanoff, while writer and editor Horatia Harrod is a member; so also, is actor Natascha McElhone; and writer and former Archbishop Rowan Williams.
Check out the galaxy and diversity of the judges. Perhaps our award organisers need to learn from this. For years now there have been calls on the organisers of the Nigeria Literature Prize to think out of the box, if you excuse the cliché, in selecting their panel of judges. The idea of populating such a panel with only university lecturers is clearly antiquated because writing or judging what constitutes good literature has since jumped the wall of the universities, it is there on the streets. We need to let literature and good writing be decided by those who are not confined by some archaic idea of literature as they are taught in the classrooms. How many can today say that the writings that we encounter in the covers and inner pages of books are what were taught in literature classes? Or looked in another way, how many of those who have even won those literary prizes read literature or anything near it? I think it is time we democratize this process and allow those who read contemporary books decide what is good writing.
I am looking forward to a day when we are going to have a writer confess that winning a particular Nigerian prize led to the surge of sales of his/her books in the stores. The problem may not only be with the judging process but with the fact that many of those books are published to win those prizes and after the winner pockets his 'loot' and disappear from the literary scene to enjoy the jackpot!! Why?
The essence of a literary prize is not only to reward the writer for the sleepless nights but also to promote the book and reading culture. In the past few years, I have been searching for copies of some of the books that won honours here without success.
For Eddie Aderinokun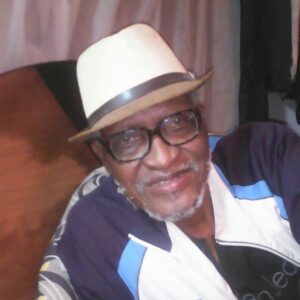 And so, the light went out quietly for Chief Eddie Aderinokun. The journalist, poet and culture patron that we all affectionately called "Uncle Eddie". I cannot claim to be close to him but I had met him several times at literary cafes and outings in the city. He was such a gentle and unassuming elder who carries himself with respect and dignity.
It was at The Guardian that I first got a bit close to him when he used to visit the newsroom either to fraternise or drop a book or other for review. I've had the privilege of doing that a couple of times for his books. At every meeting of Association of Nigerian Authors (ANA) Lagos branch, he was always there as a host or something.
A few days to the end of last year, I was in my study trying to tidy up some of my books on the shelf. It was then I stumbled on three of his published poems which he gave me some years back. My mind went to him and I reread a few of the poems not knowing ara lo nsoro fun mi, as the Yoruba would say.
On January 4, I got a WhatsApp message from one of the art groups I belonged to announcing his demise. The statement said he was 80! I was surprised, although it has been a long time, I met him but I never knew he was that old. That is a plus for him because he never threw his age or weight around, he was such a humble man. A man who was at home in the midst of his juniors, those who could jolly well be his grandchildren. We all called him "Uncle". He was such a free spirit!
What better way do I conclude this tribute to him than to resort to one of his poems in Ebony on Snow A Travel Diary in Verse a collection of his poems in which he wrote about many cities in Europe that he visit.
In the one titled Prague he wrote:
Let me fly on,
To far provinces,
Where in an uncertain schedule
The heavens elect
To water earth's vineyards
And wash
The golden domes of ancient synagogues
Let me fly on
To those lands, where spa waters
Murmur deep in mysterious grottoes
And gargle in caves, where the procession of centuries
Have passed.
Uncle Eddie, fly on to the far provinces of the domes of ancient synagogues to meet the heavens elect in deep mysterious grottoes where the processions of centuries have passed.
Farewell.
Comments
comments