Professor Toyin Falola of the University of Texas at Austin has donated books covering different fields of study to the Kaduna State University (KASU) library.
The books were presented to the Pro-Chancellor, Dr Husaini Adamu Dikko and the Vice-Chancellor, Prof. Abdullahi Musa on 30th January, 2023 in the University library. This is the second time Falola is presenting books to the school library.
While presenting the books on behalf of Prof. Falola, the Director, Centre for Gender Studies, KASU, Prof. Hauwa'u E. Yusuf said the donor has been a friend of the University since the year 2008.
She said, "Prof. Falola has restated his commitment to continue to partner with KASU in whatever capacity he can and looks forward to visiting the University in the nearest future."
In his remarks, the Pro-Chancellor and Chairman Governing Council, Dr Dikko thanked the donor for the gesture and said he has proven that giving back to his mother land is dear to his heart.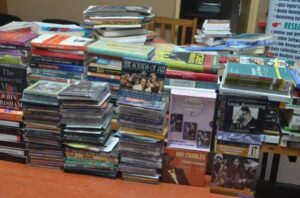 He advised the University Management and library to put the books to proper use, place the musical collections in a corner not designated for reading and ensure to strengthen the relationship between the Professor and KASU as the singular act will encourage other scholars in the diaspora to replicate such in their various countries.
The Vice-Chancellor expressed his delight and appreciation to Prof. Falola. He promised to foster a good working relationship with the donor and the University of Texas.
The Acting University Librarian, Dr. Joshua Magoi said the Toyin Falola corner houses his books and publications in the library.
Falola,  a Fellow of the Historical Society of Nigeria and the Nigerian Academy of Letters, is one of Africa's greatest historians. He is a Professor in several universities, and has served as the President of the African Studies Association. He is currently the Jacob and Frances Sanger Mossiker Chair in the Humanities at the University of Texas at Austin.
His research interest is African History since the 19th century in the tradition of the Ibadan School; his geographic areas of interest include Africa, Latin America and the United States; and his thematic fields include Atlantic history, diaspora and migration, empire and globalization, intellectual history, international relations, religion and culture.
Falola is author and editor of more than two hundred books.
Comments
comments