Former President Olusegun Obasanjo was among a galaxy of academics, friends, family and associates to on January 1, 2023 gathered online to celebrate eminent scholar Prof Toyin Falola who clocked 70.
Falola is the Jacob and Frances Sanger Mossiker Chair in the Humanities at the University of Texas at Austin, USA.
The celebration which was held by Zoom was witnessed by a galaxy of academics, politicians, technocrats, and university administrators.
Obasanjo praised the celebrant for his uncommon humility and scholarship. He added that Falola has continued to make Africa proud both in the homeland and the Diaspora.
Former Vice Chancellor, University of Ibadan, Emeritus Professor Ayo Banjo said Falola is a remarkable scholar. According to him, "He is one who demonstrates that all knowledge is one. He engages in more than history, though a historian. I see him as a model for young Nigerians."
Former Governor of Ekiti State, Dr Kayode Fayemi described Falola as an icon of Yoruba Omoluabi adding, "I consider myself an indirect student of Professor Falola. He taught my wife as a student. When I went to the University of Ife now Obafemi Awolowo University for my Master's degree, he was there as lecturer. He is warm and willing to share his knowledge. He is never judgmental. He is a Yoruba exemplar. We owe a duty to him in celebrating him as a father and a mentor. His commitment to pan-Africanism is unequal."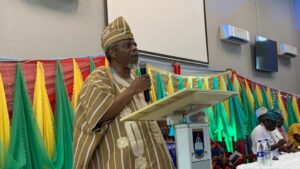 In his short response, Falola thanked the speakers and the organisers, saying, "I am very grateful to everyone for their kind words. I am grateful to President Obasanjo. He is still strong and has the optimism that he would still be with us. We can be disappointed with leadership but not with our communities. Your vision must be big. Make your projects bigger. Don't be minimalist in trying to skew your future. It is very difficult to grow beyond your vision. I am very grateful to you all."
Among the coterie of guests who witnessed the event are: Professor Niyi Osundare, Professor Olu Obafemi, Chief Ajibola Ogunshola, Professor Tanure Ojaide, Professor Richard Joseph, Dr. Abiodun Bello, Professor Michael Vickers, Prof Tunji Olaopa, who served as the chairman of the occasion,  Professor Akinjide Osuntokun, Professor Olabode Popoola, and a host of others.
Comments
comments