Until he had his last breath in faraway India on Thursday, Prince Ademola Adeniji-Adele was a force to reckon, with not just in political but also sports circles of Lagos state.
The son of Musendiku Buraimoh Adeniji-Adele, the 20th oba of Lagos, the deceased also had his days as an activist. He was in the forefront  of the battle against the military junta of Sani Abacha, former Nigerian dictator.
Adeniji-Adele, who began his political career as a councilor in Lagos Island local government and later became chairman of the same local government, was incarcerated during the struggle for the restoration of the mandate of the late MKO Abiola.
In 2007, the Babatunde Fashola administration appointed him commissioner for youth, sports, and social development, and he was to be retained during Fashola's second term, but he rejected it on health grounds.
POLITICAL SOJOURN
Adeniji-Adele had a stint at the Alliance for Democracy (AD), from where he went to the Peoples Democratic Party (PDP), where he spent eight years. He sought the gubernatorial ticket of his new party, but lost to Hilda Williams, widow of the late Funsho Williams. He moved to the Action Congress (AC), from where he joined the Action Congress of Nigeria (ACN), and later the All Progressives Congress (APC).
Sultan Adeniji-Adele, his first son, broke his father's record of entering politics at a young age. The deceased was once the youngest local government chairman in the country, having being elected at the age of 33, but his son became a member of the Lagos state house of assembly three years younger.
Sultan followed his father as he moved from one party to the other, but in 2014, the younger Adeniji-Adele said he would not join his father in cross-carpeting again.
"If my father feels like going to another party, he is on his own," he said in an interview.
"When my father crossed to the defunct AC, I was still very young then, but I have come to realise that APC as it is called now is a party that gives opportunity to youths. I have seen a party that has the love of the youth at heart. I still have a lot of years ahead of me, so I need to think well and stay with the right party, which is APC."
DISAGREEMENT WITH AMOSUN, TINUBU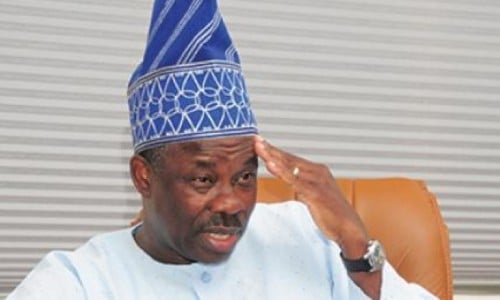 Ibikunle Amosun, incumbent governor of Ogun state, is not a paperweight in politics. A former senator, Amosun commands respect within the rank and file of the ruling party, but the fearless Adeniji-Adele was not intimidated by Amosun's influence, as he confronted the governor, who had accused him benefiting from some unfavourable policies during the administration of Gbenga Daniel, the immediate past governor.
Amosun said Daniel sold the state-owned Apoje Farms Limited to Adeniji-Adele for peanuts. But responding to the allegation in an open letter, Adeniji-Adele described Amosun as a liar who was out to settle political scores.
"I had wished you had left me out of your battle with Governor Daniel but you had to drag me in to lend credence to the falsehood you were peddling," the Lagos politician said.
"On at least two occasions, on the issue of Apoje Farms, I explained to you and your aides that the transaction was a concession, not a sale.
"As at the time you illegally and unceremoniously kicked us out of the Farm, we had invested well over N200 million in nursery (15 hectares), a first phase of transplanting (1,500 hectares), and so many supporting infrastructure, including irrigation.
"Of course I took the only option left for me and went to court and I will continue to pursue this course of action. I reject the curse you vented at the occasion and pray for God to forgive you for the loss of lives your actions have caused the people of Ogun State and the untold hardship you have caused the people of your state."
In a similar manner, he lambasted Bola Tinubu, former governor of Lagos, in an advertorial published in different newspapers, in January 2015.
Adeniji-Adele, who was the south-west coordinator of the presidential campaign of former Vice-President Atiku Abubakar, accused Tinubu of turning Lagos into his fiefdom.
The prince said he was not alone in the cause of freeing Lagos from the grip of Tinubu, whom he said had completed four terms, and was still seeking two more terms.
Adeniji-Adele claimed he was speaking the mind of 500,000 Lagosians.
"Our fore-fathers and fathers fought so hard for Lagos to be free and remain on its own from the west. That battle was fought and won, so it will be a betrayal to them to allow one man have Lagos in his pocket," he had said.
But as if to suggest that he had gone too far, Sultan, his son; Adelani, his younger brother, Ayo Adewale, his son-inlaw and former chairman of Amuwo Odofin local government, all opposed him.
"The comments under the advertorial are personal to our brother and father, Prince Ademola Adeniji-Adele and were made purely on his own without reference or consultation with me or his son, Prince Sultan Adeniji-Adele, a proud member of the APC in Lagos state House of Assembly, or even any member of the family," read a statement signed by Adelani.
"Consequently and on behalf of Sultan and myself and the family, I wish to dissociate us from the advertorial by Prince Ademola Adeniji-Adele, where he made insinuations on a particular party and leader.
"We wish to state further that our loyalty to the party and its leadership remains as strong as ever."
On his part Adewale said: "As far as I am concerned, Asiwaju has not done the society any wrong.  Asiwaju has helped to build the Nigerian society. So many times this man risked his life.  So many times, many people wanted him dead. This is a man that has refused to bend.  He is committed to bringing the lost glory of Nigeria back to the fold."
However, Adeniji-Adele stood his ground, maintaining that he had a right to his view.
HIS PHILANTHROPY
In 2014, he established The Oba Adeniji-Adele Foundation, to award scholarship worth N1.65 million annually to the best graduating student of the Lagos State University, LASU, to pursue a post-graduate course in any discipline.
He explained that the scholarship was instituted to commemorate the 50th anniversary of his father's death.
The Adeniji-Adele family disclosed that a board of trustees had been constituted and charged with the responsibility of administering the foundation.
HE WON'T WITNESS HIS SON'S CORONATION
The father of Adeyeye Ogunwusi, the ooni of Ife, witnessed the coronation of his son. As a matter of fact when the monarch could not attend the wedding of his wife, probably because of his commitment in the kingdom, the father stood in for him.
Sultan, the first son of the deceased, has indicated interest to be the next oba of Lagos.
"I am from a royal family and everybody from such family will always hope to be the next Oba of Lagos one day. So, I pray to God that one day, I hope to be the next Oba of Lagos," he toldEncomium in an interview.
This is still a tall dream since Rilwan Akiolu, the incumbent occupier of the throne, is still as fit as a fiddle. But unlike the ooni, who still enjoys the presence of his father, Sultan will seek advice elsewhere if his dream of succeeding the king eventually comes to pass.
Aged 60, Adeniji-Adele is survived by Tawakalitu, his wife, and children.
culled from www.thecable.ng
Comments
comments